The $14.7M charity website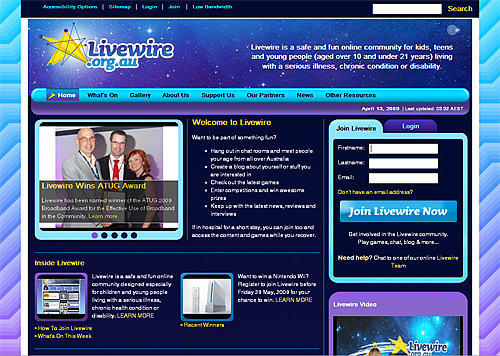 I found it interesting that on the same day I read this post about digital agencies going low-fi and steering away from the "million dollar websites" is the same day I read about the Starlight Foundation spending $14.7M on a social platform for sick kids called Livewire.
This includes $7.2M donated by the government. The rest was raised by other means. Oh and they will be looking for more money once this initial funding runs out at the end of 2009.
I know I'm late to the game as this issue is a month old but it's still not resolved.
There is a great interview with Omar Kalifa, Managing Director, and Cinnamon Pollard, Partnership and Marketing Manager, of Livewire in which they are asked about the cost involved. Listen here.

They do explain the costs are also involved in setting up a wireless network and computers for kids in hospitals and the fact it's actually 3 websites in one, kids, teens and adults. But this still does not justify the huge cost that is only until end of 2009.
They explain they have a few paid chat hosts that monitor the chats 24 hrs a day and had to design special tables for laptops. They mention "the majority of the money is not spent on the website, it's for doing research, maintaining computers, generating content etc etc" Seems like all part of the website even if it's not "the technology".
I also cannot see the "games" they refer to in this podcast. In fact the site looks barren and doesn't seem like fun site for kids.
The CMS was developed by LoungeTech which is the same people behind Life Lounge. The same people behind The Vine which Cinnamon Pollard was part of the roll out. That explains the way this project was tendered.
I'm not sure how much each element costs (CMS, Live chat, research, monoriting) but the guys at Life Lounge would have come out with a pretty $ figure. This is better than having Bigpond on the books.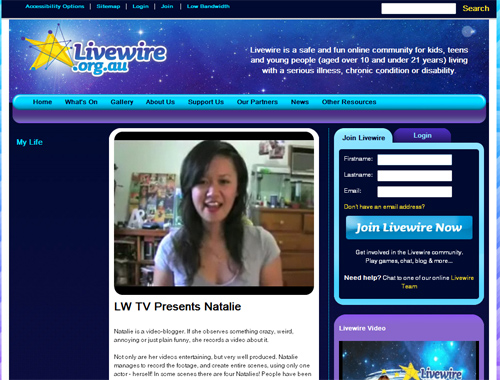 I also tried to view some content like the first video from celeb Youtube blogger Natalie. Check the page that teases the content here.
But you can't see the video unless you login. Sorry kids you'll have to wait until you are approved before seeing anything.
You can read more about this here and Nathan breaks down how this (even with crazy spending) would have cost just over $1M to produce and probably would have been better and cheaper to run.
Also check the letter to Senetor Conroy asking WTF!
Someone is getting an easy ride on this project and with Starlight asking for more money when they obviously have been wasting the money they already have.
I hope the issue is raised further than these few blog posts and that the charity is held accountable for this use (misuse) of funds. This kind of thing might have been OK in 1998 during the bubble but in 2009 it's a complete shambles.
What makes this worse is not the amazing amount of money that has been spent on the project it's how bad the actual site is. It looks barren, boring and there is nothing there that kids won't already get elsewhere online.
I only wish I had more power to influence issues like this and wonder where the oversight for our Government is?